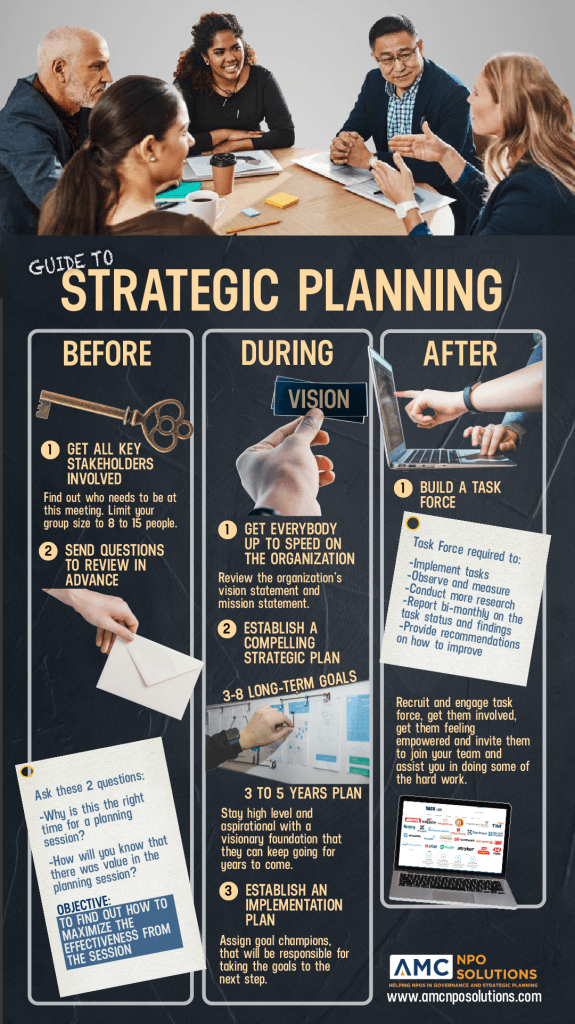 Here's your cheat sheet to an effective strategic planning session. In this infographic we cover what you need to do before, during and after a strategic planning session.
Before the Strategic Planning Session
Get all key stakeholders involved
Find out who needs to be at this meeting. Limit your group size to 8 to 15 people.
Send questions to review in advance
Asking questions beforehand will help you find out how to maximize the effectiveness of the impending strategic planning session, which can be used to structure your strategic planning session.
You can ask these 2 questions:
Why is this the right time for a planning session?
How will you know that there was value in the planning session?
During The Strategic Planning Session
Get everybody up to speed on the organization
Review the organization's vision statement and mission statement.
Establish a compelling strategic plan
Create 3-8 long-term compelling goals that span 3 to 5 years. Stay high level and aspirational with a visionary foundation that they can keep going for years to come.
Establish an implementation plan
Assign goal champions, who will be responsible for taking the goals to the next step.
After The Strategic Planning Session
Build a task force
The task force would be required to:
implement tasks
observe and measure
conduct more research
report bi-monthly on the task status and findings
provide recommendations on how to improve
Next, recruit and engage task force, get them involved, get them feeling empowered, invite them to join your team and assist you in doing some of the hard work.