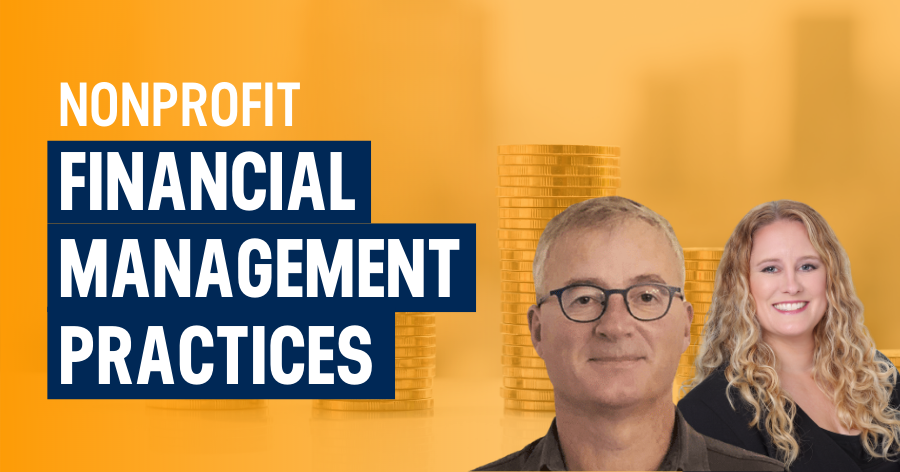 Podcast: Play in new window | Download
In this episode of the Strategic Nonprofit podcast, Trista McIver sits down with Thomas Kriens to discuss nonprofit financial management best practices to help them thrive.
Healthy organizations apply good financial management practices that ensure stability, flexibility and safety so that they can continue to positively impact the communities and individuals they're so passionate about.
Improving Donations With User-Friendly Websites
Websites are tools you can use to engage visitors and convert them into donors, not just a means for people to learn about your organization. By featuring your accomplishments and mission in a highly woven strategic plan website wide and streamlining your donation landing pages to convince those on the fence – you'll find that the decision to donate becomes automatic for users.
When websites came out, they were basically just to show who the organization is – It like an electronic business card.
So how can organizations optimize their websites to ensure visitors are compelled to complete donations? Considering that donations are spontaneous in nature, donors want to complete the process as quickly as possible before changing their minds. Providing a clear and very noticeable link to donate is imperative; in fact, around 25% of NPO homepages fail to provide a call to action or link to donate.
Utilizing Technology for Financial Management
2020 was the year that most organizations were forced to go almost completely digital to remain safe; however, naturally, most found that this streamlined their processes, actually improved communication and increased productivity tenfold.
I'm sure a lot of people were very scared about the technology, but when you're thrown into it, you can do it!
So if you didn't already know by now, here are some recommended digital tools and software that will ensure the wheels of your NPO keep spinning, even if you're not there in person.
Communication – Slack
Slack aligns all of your team communication in one place, so forget sifting through multiple emails, WhatsApp or even Facebook and Skype to find out what's going on! Slack also integrates other web services such as Google Drive, Trello, Asana, and Dropbox, making sharing files a breeze.
CRM – Salesforce
Salesforce has actually created a specific "Nonprofit Success Pack," intending to allow NPOs to focus on their impact. Over 30,000 nonprofits worldwide use Salesforce, from small organizations working in a single community to multinational NGOs and foundations.
Analytics – Google Analytics
Google Analytics allows you to track online conversions- both hard and soft conversions all for free! Which will enable you to make informed decisions on where your NPO team should spend their time. Furthermore, you can understand which visuals are most compelling, which blogs attract the most users or, even the campaigns that bring in the most results. So when you know what works and what really doesn't, you can make better decisions for your nonprofit.
Membership Management – Member365
Member365 has focused on building a strong contact record management system because they recognize that associations don't just deal with members. They have all different types of relationships from volunteers, to sponsors, to speakers. So they've built a platform for them to manage all of their relationships via one piece of software.
Listen to Analyzing Membership Management Software with Member365
Donations – Donorbox
Donorbox is a robust fundraising software that is simple to set up; start receiving donations in just 15 minutes. Globally, around 35,000 organizations in over 40 countries use the Donorbox primarily because they can seamlessly embed a custom form to their website or use a pop-up widget.
Downsizing
By considering moving to a partial or fully remote team and workspace, you can reduce the number of desks needed, ensure the safety of your employees, and of course – say goodbye to those rent and utility bills.
If you still want to downsize but don't want to lose that in-person connection, sign up for an office-sharing space where they schedule meeting rooms or offices when they need them.
I'm seeing that probably the vast majority of people working at home are very effective. You know, they'd rather be in that office environment, but that's really showed the resilience and trust of people too.
It's even possible for your nonprofit to work with fellow organizations by sharing an office and building and is an excellent avenue to building community.
Securing Employees
Employee retention is probably the easiest way for an organization to save money as a whole, with the costs of hiring, training and onboarding new staff being sky-high. Ensure your employees are happy, supported, and motivated in their work by paying close attention to your company culture, incentives, and rewards.
Introducing Kriens-LaRose
Kriens-LaRose (KL) is a full-service Public Accounting Firm in Toronto, founded in 1997 by Thomas Kriens and Leanne LaRose. Both professionals are proud members of their local community and have forged strong relationships with various small businesses, not-for-profit organizations, and individuals.
Their audit team currently provides services to over 130 NPO organizations, including trade and professional organizations, community groups, charities, and condominium corporations.
More About Thomas Kriens
Thomas is a Partner at Kriens-LaRose Chartered Professional Accountants who work mainly in the not-for-profit sector, providing audit and financial management services to organizations in need. Thomas's energetic desire to work with NPO organizations has also recently led him to write articles and host seminars.