Fundraising for your nonprofit is often an overwhelming task. It can even be seemingly impossible when you're only figuring out your fundraising activities. There's a lot to consider. So, to help you get organized, we've created this ultimate guide. Keep reading to discover all of the relevant information and insights you need to raise funds and continue to do good work for your community.
Also read:
What is Nonprofit Fundraising?
Nonprofit fundraising is the process of organizations asking individuals, companies, and foundations for financial contributions. These donations sustain NPOS and further their cause, create awareness and sustain the operation. Nonprofits often fundraise through various digital and traditional communication methods. These can include formats such as email marketing, direct-mail donations and grants.
Why is Fundraising Important?
The biggest issue for not-for-profits in Canada is financial sustainability. Most nonprofits rely on grants and funding from external sources. This means that if you lose your funding, you lose your organization. So when these sources are no longer available, it causes enormous problems. In particular for the logistics of your operation and those you're trying to help.
When is fundraising not acceptable? Nonprofit Fundraising Laws
According to the official guidance on fundraising by registered charities (CG-013) provided by the Government of Canada, "Fundraising is acceptable unless it:
is a purpose of the charity (a collateral non-charitable purpose)
delivers a more than incidental private benefit (a benefit that is not necessary, reasonable, or proportionate in relation to the resulting public benefit)
is illegal or contrary to public policy
deceptive
an unrelated business
Three types of nonprofit donors
Funders are people, sure. But let's quickly recap the three different types of donors you may come across during your fundraising activities:
The Sustainer Donor
A sustainer donor is a typical donor most organizations envision having. In general, they love your organization. They're passionate about your mission, so they go to your outings and annual meetings and are always involved. All you have to do to keep engaging a sustainer donor is the stereotypical stuff you usually do, such as staying relevant and inviting them to events.
The Campaigner Donor
A campaigner donor cares more about the issue than about any specific nonprofit organization. So you'll lose these big thinkers at "hello" if you approach them from a sustainer donor stance. Especially if you were just about to tell them how good your organization is. As a result, the solution is to address these donors with how your organization changes the problem they see.
The Launcher Donor
Like the two other donor types in the sense that they care deeply about the cause they're trying to help – launcher donors also need to bridge the gap where they see one. This means that they'll usually go to great lengths to help fill any identified gaps – such as providing more funding upfront.
Best practices for Nonprofit Fundraising
There is increasing pressure on not-for-profits to ensure that fundraising practices are practical and proper. As a result, we've collated our best practices and top tips for fundraising for your nonprofit. Check them out below:
1. Set realistic goals
Unrealistic targets create pressure and can lead to questionable fundraising practices. So targets set by management, consultants, or contractors must be realistic and reflect your organization's context. For example, larger, more established charities are often better able to develop new fundraising sources than newer or lesser-known organizations.
Choose fundraising plans carefully, especially plans that look too good to be true—because they probably are. Above all, pay close attention to the assumptions at the root of each goal or target.
2. Align your fundraising and strategic goals
When planning fundraising plans, consider your strategic direction. So if you have new buildings or facilities in the works, your fundraising plans will likely focus on large gifts and grants. On the other hand, if you plan on consolidating current programs and building efficiency, your fundraising plan may emphasize improving the average gift size rather than boosting donor numbers.
What's more, each of your fundraising plans will probably have different ROI profiles, and you will need to evaluate them over different time periods. As a result, it may be necessary to monitor various performance measures over different periods of your strategic (and correlated fundraising) plans.
3. Increase awareness of implementation measures
While the board can't make management decisions, it's appropriate—and beneficial—if you understand how your organization pursues donations, especially when your organization is trying out a new strategy or fundraising plan.
Some questions for board members to think about:
How can you ensure that donation collectors (face-to-face and door-to-door) are respectful?
Do you have policies regarding bequest solicitation when the organisation or its representatives may influence the donor or their family?
Does your organisation have a firm complaints policy and review system (when families contest a bequest, for example)?
4. Think long-term
While sales-driven fundraising methods may result in short-term gains, this can get in the way of long-term relationships with donors. When it comes to donations, it's important to balance short- and long-term fundraising plans. In terms of giving, make sure you monitor donor retention closely. To ensure long-term relationships with donors, you may want to evaluate your results over more extended periods of time. Most successful not-for-profits have high donor lifetime value.
Also read: Sponsorship Programs For Nonprofits: Creating An Effective Partnership
5. Measure the right things
The best evaluation of your fundraising performance includes both financial and non-financial measures. For instance, if you aim for a rapid increase in active donors, then the costs of new donor acquisition should be measured against your existing "whole of life" donor value, as opposed to the first donation. However, if your organisation is trying to emphasise your bequest program, you should probably measure the number of donor enquiries spurred by the program rather than the value of bequests received in a year.
6. Keep donors informed
Ensure the fundraising information in your annual reports is accurate and thorough. One way to do this is to make sure that you're on the mail, email, telephone, and social media list for fundraising solicitations.
Additionally, consider asking the reporters:
Are any of our fundraising claims misleading?
Does the report educate members and donors about our fundraising strategy and why we need to monitor it over the course of years as an investment?
If we fundraise in Ontario, have we satisfied the province's specific requirements and any other necessary jurisdictions?
7. Focus on your mission
It's easy to stress over your funders' perceptions of your organisation's overheads and marketing. However, this becomes a problem when these concerns warp your perceptions of your overheads' true cost, and you react by cutting these areas too deeply. This drives costs down but forces you to cut back on essential investments. You're then forced to choose between starving the infrastructure, tweaking the numbers, or hoping your donors don't care about your overhead costs.
8. Understand your donors
People will always undoubtedly help your mission; however, you've first got to understand who you're talking to when approaching donors, sponsors and beneficiaries.
Most people do just want to give back to society. Maybe they want to have their name on a monument of some kind. Whatever it is they want from the process, you've got to find out and give that person what they want. This way you'll have happier relationships.
9. Implement a "Friend-Raising" strategy
Friend-raising starts with leadership; It always begins at the top. It trickles down the levels of a nonprofit organization, which is why it's crucial to instil the concept that lets us bring all of our networks together – not just the executive team.
Everyone on your team is valuable; however, volunteers often feel very secluded because they're not full-time workers, which is why you need to focus on first connecting with your team as a whole. You never know what resources, skills or aptitudes you have elsewhere in your organization. Read more about how to friend-raise here: Friend-Raising Instead of Fundraising with Ric Phillips
10. Adopt donation software
2020 was the year that most organizations were forced to go almost entirely digital to remain safe. Most found that this streamlined their processes, actually improved communication and increased productivity tenfold. Donorbox is a popular and robust fundraising software that is simple to set up in terms of donor software. In general, you can start receiving donations in just 15 minutes. That's why around 35,000 organizations in over 40 countries use the Donorbox primarily because they can seamlessly embed a custom form to their website or use a pop-up widget.
11. Focus on your value proposition
Your value proposition seeks to answer why someone should donate to your organization. Likewise, it should also convince your potential donor of the value your organization brings. To do this, you must be able to answer the question, "Why should I give to you, instead of another organization?"
12. Optimise your donation landing page
Often to donate on a website, one must wade through long forms with many questions. Many of which the donor never anticipated to answer. For example: Which of the many different gift designations would you like to choose? Adding questions like this adds 'friction. Subsequently, when people don't know the answer, they abandon the process altogether. If that's happening on your donation landing page, look at ways to simplify your donation process. Since donations are spontaneous, donors want to complete the process as fast as possible before changing their minds. That's why providing a clear and very noticeable link to donate is imperative. Did you know? Around 25% of NPO homepages fail to provide a call to action or link to donate.
13. Talk with funders
It's essential to have honest conversations with funders about their initiative and their deepest funding priorities. However, before you can talk with funders, you need to start making your grant or prospect pipeline full of qualified grant leads. So, to do this, ask yourself:
Are we truly aligned with their funding priorities?
Are we looking at the location – do they fund nationally? State-by-state?
At what level are they funding?
14. Learn to take rejection
Funders have rubrics, metrics and funding priorities they're looking at every time you ask for funding. So make sure that you're not putting all your eggs in a basket. Rejection is, unfortunately, part of nonprofit fundraising. So the sooner you learn how to handle it with grace and focus on your energies, the better your other fundraising activities will be. In summary, it's important to remember that every "No" brings you closer to a "Yes." How you handle rejections is an actual test of your character. So to keep moving forward and create a sustainable path, you need to be able to roll with the punches, as they say.
15. Prepare for questions
If a funder asks you a question, they need the answer. That's why you need to be able to set aside what you think you should say, or perhaps what your ego wants you to say and answer with the relevant information.
Building a Nonprofit Fundraising Plan
The first step for anyone looking to increase and maximize their organization's revenue streams is creating a fundraising plan. However, before we delve into the specifics, let's quickly recap what a nonprofit fundraising plan is and why you need one:
What is a Fundraising Plan?
A nonprofit fundraising plan is a digital or physically written document that details the preparation of your organization's fundraising efforts throughout a set period – which is often the fiscal year. Nonprofit fundraising plans should include both financial and marketing goals to accomplish your set goals.
Why is a Fundraising Plan Important?
It's not uncommon for any board or committee to not already have a nonprofit fundraising plan in place. Usually, any fundraising activities are spontaneous, impromptu, and often sparked by the panic mode that some organizations feel when funds are low. Someone will have an idea for an event and will just go for it.
When this happens, it's a recipe for stress, conflict and financial mismanagement. Consequently, that's why creating a nonprofit fundraising plan is instrumental if you want to stay sane and sustainable as an organization!
How to build your nonprofit fundraising plan
The most successful nonprofit fundraisers will tell you the secret to fundraising success is preparation. That's why a robust fundraising plan should be the foundation of your approach. Because it provides a framework for more intentional, successful fundraising. Below, we outline an ideal fundraising plan:
1. Reflect on past finances
The first task of your fundraising plan is to take a moment to reflect on your organization's past finances. By doing so, you can identify key insights in your data that will help you understand how you've grown in the past year, and realistically, where your organization can continue to grow.
Ideally, it would be best if you also used this time to optimize and streamline your entire process. For instance, are there expenses you can cut? Would it be beneficial to move or reallocate funds to a particular fundraising activity that proved to be effective last year? Or perhaps you need to hire a new staff member? Make these distinctions before continuing to build your nonprofit fundraising plan.
2. Reinforce your vision & mission
To ensure your fundraising strategy is successful, it would help to next reinforce and reflect on your organizational mission and vision. Otherwise, your staff will find it almost impossible to connect with donors and generate sufficient funding – because they want to know precisely what you do and why. More so, by reinforcing your vision and mission during fundraising planning, you'll ensure that it remains top of mind with staff and donors alike – making you more likely to reach your fundraising goals.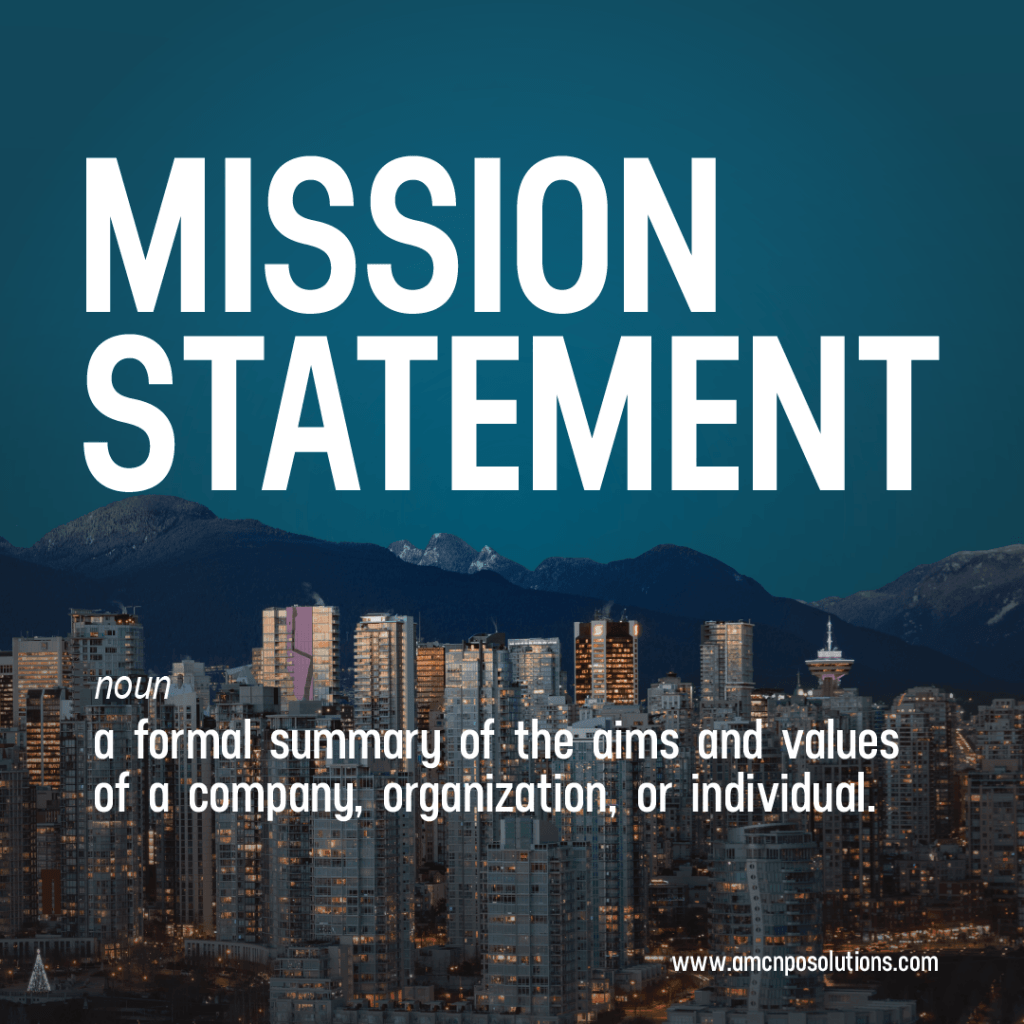 3. Build your case for support
If you don't already have a case for support for your nonprofit, you need one! Without one, no one would know what your nonprofit does, why it's important and why people should support you. That's why your case for support needs to be specific and actionable because realistically, no one wants to give their money to an organization that doesn't have a clear use or direction for using those funds. To achieve this, your case for support should include your mission statement, a history of your nonprofit organization, your fundraising goals and a detailed report on what your organization is set to achieve with financial support.
4. Determine & set fundraising goals
When setting specific fundraising goals, you should always follow the SMART framework:
Specific: Specific fundraising goals have clear guidelines with a number and timeline attached to them.
Measurable: You can't really determine your fundraising success without numbers. Therefore it's essential to use numerical data to assess progress later.
Attainable: Whilst aiming for the stars is a great attitude, it's not exactly attainable. Your fundraising goals must require work to achieve – but not be completely out of reach.
Realistic: Similar to how they need to be attainable, they need to be realistic – otherwise, you run the risk of ruining your morale through a lack of results.
Timely: Lastly, you need concrete deadlines for your goals – and stick to them! Doing this will increase your staff's productivity and accountability when there's a timeline attached to their activities.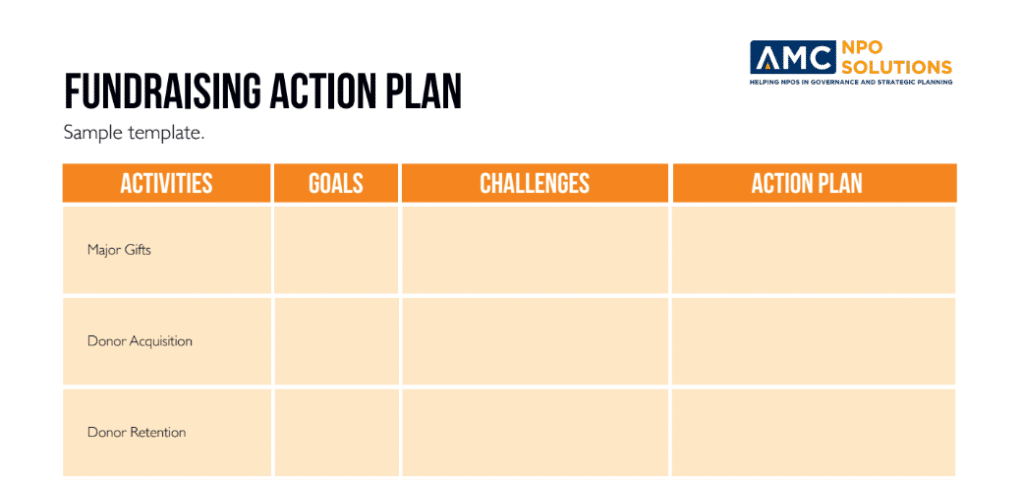 5. Create a budget
The next step in your nonprofit fundraising plan is forecasting how much each of your planned activities will cost. As well as calculating how much revenue you expect they'll bring in. By doing this, you'll gain a better perspective on which activities are more feasible than others, and you'll be more likely to stay on track when you have a revenue goal to achieve.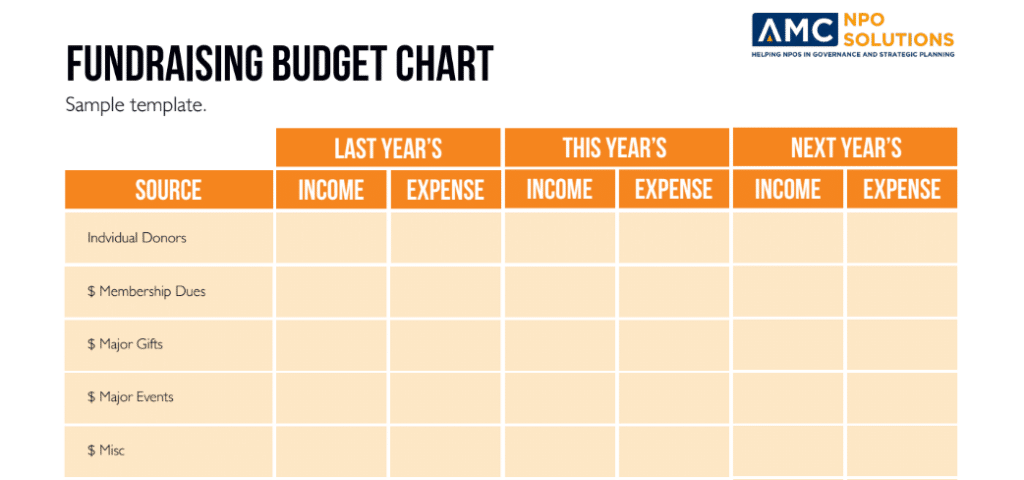 6. Create a calendar
After your budget is planned out, you need to start scheduling your fundraising activities in a calendar. Not only will this help to keep your staff and self on track and accomplish what you set out to achieve, but it will also help your entire team stay aligned and collaborate.
Inside your fundraising calendar, you'll want to ensure you have all key information for the year, including:
Campaigns
Grant Deadlines
National Holidays
Key dates
7. Construct a gift range chart
Another key aspect of your nonprofit fundraising plan is your gift range chart. A gift range chart helps plan out your fundraising goals into smaller and more achievable benchmarks. By using a gift range chart like the one below, your team will benefit from determining the amount or size of gifts necessary to meet your goal and the number of prospects they'll need to supply these gifts.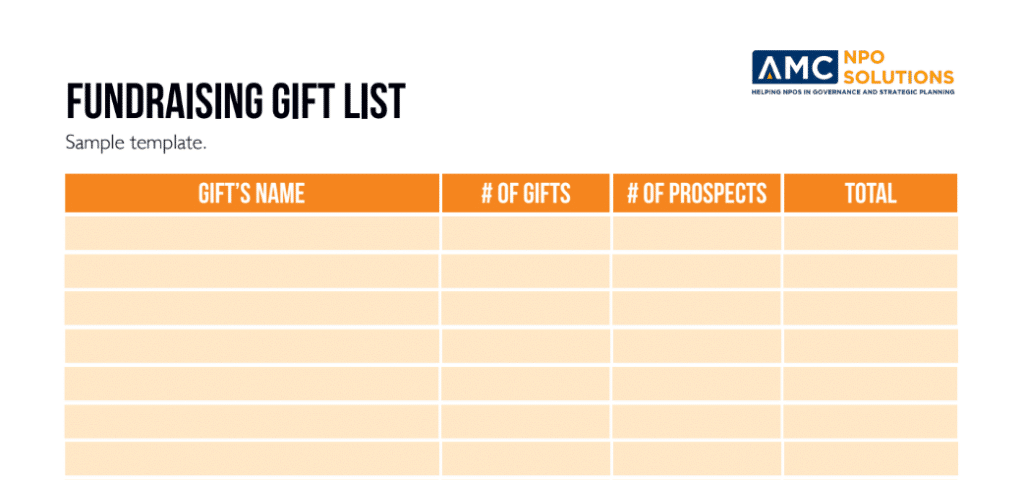 8. Delegate fundraising activities
Finally, if you want to make sure your fundraising plan comes to life and serves its purpose, you need to delegate your fundraising plan activities to staff. The easiest way to delegate fundraising tasks is to use a calendar matrix, which helps staff across departments stay on top of their responsibilities and understand how the whole initiative progresses. When you create a fundraising calendar matrix, ensure you include details that help your staff's overall understanding of your fundraising initiatives, such as:
Associated costs
Each fundraising activity's potential income
Deadlines/Benchmarks
Personnel required
Top Nonprofit Fundraising books
We know there is a ton of information on nonprofit fundraising out there, from classes, webinars, conferences, and blogs like this one – it's easy to get lost when so many resources compete for your attention. So that's why we've compiled a focused list of our favourite books on nonprofit fundraising below we're sure will help you get organized.
However, before you jump in, remember that every author is coming from a different perspective. They have varied skillsets and levels of experience – so use this list as a tool to sharpen your overall fundraising skills and knowledge.
From the Ground Up: Digital Fundraising For Nonprofits
This book is a practical guide for anyone seeking to understand, build, and design an innovative digital fundraising program. Grab this read if you're particularly interested in building knowledge about digital tools, platforms, offers and integrations, maximizing email marketing for donations, digital advertising strategies and an introduction to donor journey matching.
Originally published: 2 September 2020
Author: Brock Warner, Cfre
"Brock has taken a solid fundraising strategy and brought it to life with a real-world guide to digital fundraising. In plain language, Brock is providing tactical and practical advice, rooted in insights that will drive results. This is a must-read for fundraisers."
–Maeve Strathy
The Fundraiser's Guide to Irresistible Communications
A classic fundraising book by Jeff Brooks that focuses on storytelling and donor communications. Pick up this read if you want to learn how to create great fundraising messages for all different types of donor communications. This book has it covered, whether that's improving your fundraising letters, donor newsletters, or online communications.
Originally published: 4th September 2012
Author: Jeff Brooks
It's Not Just About the Money
Build a better donor program with the help of Richard Perry and Jeff Schreifels in this easy-to-read book that's full of real-world, actionable advice that you can implement today.
Originally published: 16 December 2014
Authors: Richard Perry, Jeff Schreifels
Nonprofit Fundraising 101: A Practical Guide to Easy to Implement Ideas and Tips from Industry Experts
A highly regarded book produced by various respected industry experts, Nonprofit Fundraising 101 is an essential text for any nonprofit professionals, volunteers, or organisation.
Get practical and comprehensive guidance for nonprofit fundraising, including topics such as planning and tracking progress, board and volunteer engagement, foundation and government grants corporate partnerships, social media and mobile crowdfunding – amongst others.
Originally published: 29 December 2015
Author: Darian Rodriguez Heyman
"Good stuff! A great, incredibly helpful tool for any cause looking to raise money, online or off."
–Steve Wozniak, Founder of Apple
"It's not often you find such a distinctive twist on the world of fundraising. Professionals-and lead volunteers-will find this to be a practical, global, source of reference."
–Andrew Watt, CEO of the Association of Fundraising Professionals (AFP)
"This must-have book provides a comprehensive breakdown of the strategies and tactics necessary to raise the financial resources essential to bringing about the changes we seek."
–Jody Williams, Nobel Peace Prize Laureate (1997); Chair, Nobel Women's Initiative
Hank Rosso's Achieving Excellence in Fund Raising
Learn how to build your case for support, approach donors, manage campaigns and demonstrate stewardship with this in-depth, practical guide based on the enduring philosophy of fundraising master Henry A. Rosso.
Originally published: 6 March 2003
Author: Eugene R. Tempel
Create a brighter future for your organization with AMC
AMC's skilled strategic planning facilitators can help you navigate complex issues and build the transformative plan you need for success.
Whether you have a specific goal, troublesome problem or a new exciting opportunity you need assistance navigating -AMC's customized strategic planning sessions will help.
Contact us today to learn how AMC's Strategic Planning facilitators can help your organization develop, improve, and grow.