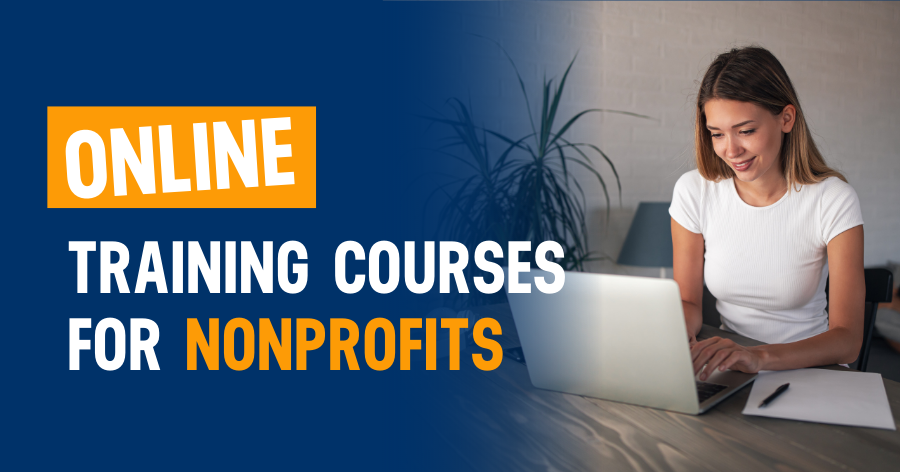 If you're looking to equip yourself or your team with the knowledge, skills and resources to grow a successful nonprofit. You've come to the right place! Below is a list of nonprofit courses in areas like nonprofit management, fundraising, grant writing and more. Read on to discover several of the best online courses for nonprofits available today.
In this article, you can find some of the best online training courses for nonprofits in these areas:
We also answer the questions:
Why consider taking nonprofit courses online?
After the pandemic, many nonprofit organizations now struggle to keep delivering the services they provide. Especially with the demand for nonprofits increasing, buildings closing, and costly PPE requirements.
Online nonprofit training courses can help you and your organization quickly hone skills so that they can level up wherever and whenever they have time. That way, you can keep providing your community with the services they need while accelerating your impact and growth.
It's not all about learning new skills, though. You'll discover the latest trends, learn about the latest technology, and enhance your leadership abilities.
Overall, many other advantages come with incorporating professional development into your nonprofit organization's activities. Let's explore some more below:
Professional & personal growth
Staff in nonprofit organizations often wear many hats. Their roles often expand by the day, and they mostly lack the tools and resources to keep pace. By taking the relevant online course for nonprofits, you can close current skill gaps faster. Not only does this approach help to solve problems more quickly but it also keeps busy staff growing as individuals and applying new knowledge. That's because learners engage more with the multiple types of content opportunities and interactive elements that online nonprofit training courses offer.
Everyone is online
Many people are now familiar with online training courses in some form or another. Now we're in a post-pandemic world; we can assume that 100% of graduates at every university went online for a significant portion of their curriculum. This is significant as nonprofits often hire people new to the workforce and those looking to fulfil more meaningful and mission-driven career paths. Not only are they ready to learn, but they are also already online and probably prefer to turn to their phone, tablet, or computer for educational interactions.
Retain key employees
Nonprofit employee turnover is high. As Forbes states, "Employee turnover has long been an issue for the nonprofit sector… The voluntary annual turnover rate is 19%—far outpacing the all-industry average of 12%." Providing growth opportunities for frustrated employees may play a role in reducing turnover among nonprofit employees. In turn, achieving the mission more effectively, saving money and boosting organizational morale.
Open-Source Vs. Paid Courses: What's the difference for nonprofits?
While many online nonprofit training courses advertise as free, these open-source courses only offer a limited amount of education before they require payment. More so, they often don't provide the highest quality content. Whereas, generally, paid courses tend to be reliable and high-quality.
However, always be careful to ensure you're making a valuable investment. You can do this by checking the reviews for the online nonprofit course or reading recommendations like this one before purchasing.
In most cases, the best option is a subscription platform, like NPO Academy. With subscription-model nonprofit courses, you'll gain access to multiple classes containing relevant educational content for a single payment.
What to look for in Online Training Courses for Nonprofits
When looking for a nonprofit online training course that suits your needs, it's important to consider:
Short videos: Keep learner's attention, often called microlearning. (Allows for a faster sense of completion and learning even if you only have 10 minutes during a commute to learn!)
Resources: an effective training program will often include editable, shareable documents optimal for collaboration.
Mobile ready: A training program available for mobile devices can prove invaluable for those on the go due to its ease of access and portability.
Also read:
---
8 Best Online Training Courses & Tools for Nonprofits
Read on to discover several of the best online courses for nonprofits available today:
Online Nonprofit Management Courses
The Complementary Model of Board Governance was created to set clear guidelines on the roles of the volunteer Board and paid staff.
The model encourages volunteer Board members to provide progressive, collective leadership and direction to the organization and the CEO. To oversee the implementation of the Board's policies and manage the organization's resources.
Start implementing better governance at your nonprofit, allowing your board and CEO to work together as a team with AMC's NPO Academy.
Discover our Nonprofit Online Board Governance Training. The online training course for nonprofits has everything you need to build an effective partnership between the volunteer Board and staff.
Join NPO Academy's Online Board Governance Training & implement the Complementary Model of Board Governance to allow your Board and CEO to work together as a team.
Learn the proper structure, roles and requirements for running effective nonprofit board meetings.
Master the entire process of running nonprofit board meetings with an online course that makes it fast and easy to train new Board members on the dos and don'ts of meetings.
You will learn:
The role and responsibilities of the Chair at meetings
What is expected of the participants at meetings
How to manage the meeting so everything runs smoothly
How to create and follow the meeting agenda
What to include in your meeting minutes
How to avoid conflict of interest at meetings
Grant Writing
If you need to learn how to write an outstanding grant proposal, the type that gets new and valuable funders to invest in your nonprofit. This Grant Writing Crash Course by Giant Squid Group is for you. They believe that a good cause needs a great mission. So they help startups and small nonprofits to achieve their funding goals to become strong, sustainable organizations. While you're here, why not check out our discussion with their CEO, Catherine Ashton, about 7 Tips For Writing A Compelling Fundraising Grant Proposal.
In this free online nonprofit training course by Giant Squid Group, you learn how nonprofits identify grant opportunities that align with your mission and work.
Alongside information like what questions to ask to ensure a grant opportunity is suitable for your work. As well as the tools that will help you find funding opportunities and grow your grant pipeline.
Fundraising
Discover Fundraising and Development Foundations, a free online nonprofit management course that begins by familiarizing students with the basic vocabulary and ideas associated with fundraising. It moves on to explore donor relations and how to plan out an ideal solicitation. Additionally, this free online nonprofit management course explains contemporary fundraising managers' challenges.
Nonprofit Financial Management
The Nonprofit Financial Stewardship program is part of Harvard University's John F. Kennedy School of Government's Nonprofit Leadership Executive Certificate series. The program's purpose is to teach nonprofit professionals the tools and techniques of sound financial management. It covers topics such as money, impact, understanding financial statements, financial management frameworks, budgeting and resource allocation.
If you're looking for an all-in-one nonprofit financial management basics course, then check out this course by GrantSpace. It's a social sector learning community by Foundation Center that offers easy-to-use tools and resources to help build more sustainable organizations.
Get access to GrantSpace's 90-minute webinar on nonprofit financial management, become familiar with nonprofits' leading financial management issues, acquire basic financial planning skills and learn to identify financial asset controls.
Digital Skills & Tools for Nonprofits
As a nonprofit, you know the importance of spreading the word. The free Canva for Nonprofits program gives you access to premium design tools. That way, your organization can create impactful marketing and campaign materials that take your mission further. Canva is easy to use, so your whole team can use it. The design tool is made with nonprofits in mind. Click the link to discover the easy way to create high-impact social media graphics and marketing materials.
While not strictly an online training course for nonprofits, this helpful resource by Meta makes it easier for you and your community to raise money on Facebook and Instagram. Discover the free tools to help you collect donations and enable supporters to fundraise for your charity in these short guides.
Discover The Best Online Training Courses for Nonprofits
Online nonprofit courses are invaluable for any nonprofit professional ready to expand their skills. Move your mission forward with NPO Academy's online training courses for nonprofits.

Get the training your organization needs, anytime, anywhere with innovative micro e-learning platform NPO Academy. 
The Complementary Model of Board Governance
Start implementing better governance at your nonprofit that allows your board and CEO to work together as a team.
Running Productive Meetings
Learn the proper structure, roles and requirements for running effective nonprofit board meetings.