Podcast: Play in new window | Download
Developing strong relationships with donors is the lifeblood of any nonprofit organization – not only do they champion your cause – they sustain it. Many organizations are left wondering what happens after you submit your grant proposal, but the real success starts before this. Making your donors feel good about their role in helping you carry out your mission in the long term is mainly ensuring that those relationships continue to develop. That's why in this episode of the Strategic Nonprofit podcast, our host Trista sits down with Sybil Ackerman-Munson to discuss why nonprofit organizations need to take a R.E.A.L approach to connect with their donors.
Also read:
What happens after an organization submits a proposal to a donor?
It's too late to be wondering about how your prospect donors may react by the time you submit a proposal as you're way too far into the process by then.
That's why Sybil suggests the first thing you need to do is make a connection with that donor so that by the time you submit your proposal, you're relevant, and they care about you. By doing this, you will streamline that process and ultimately get money on the other side. But how do you achieve this? By being R.E.A.L.
3 types of donors
Before we delve into how to be R.E.A.L with donors, let's quickly recap the three different types of donors you may come across during your fundraising grant proposal activities: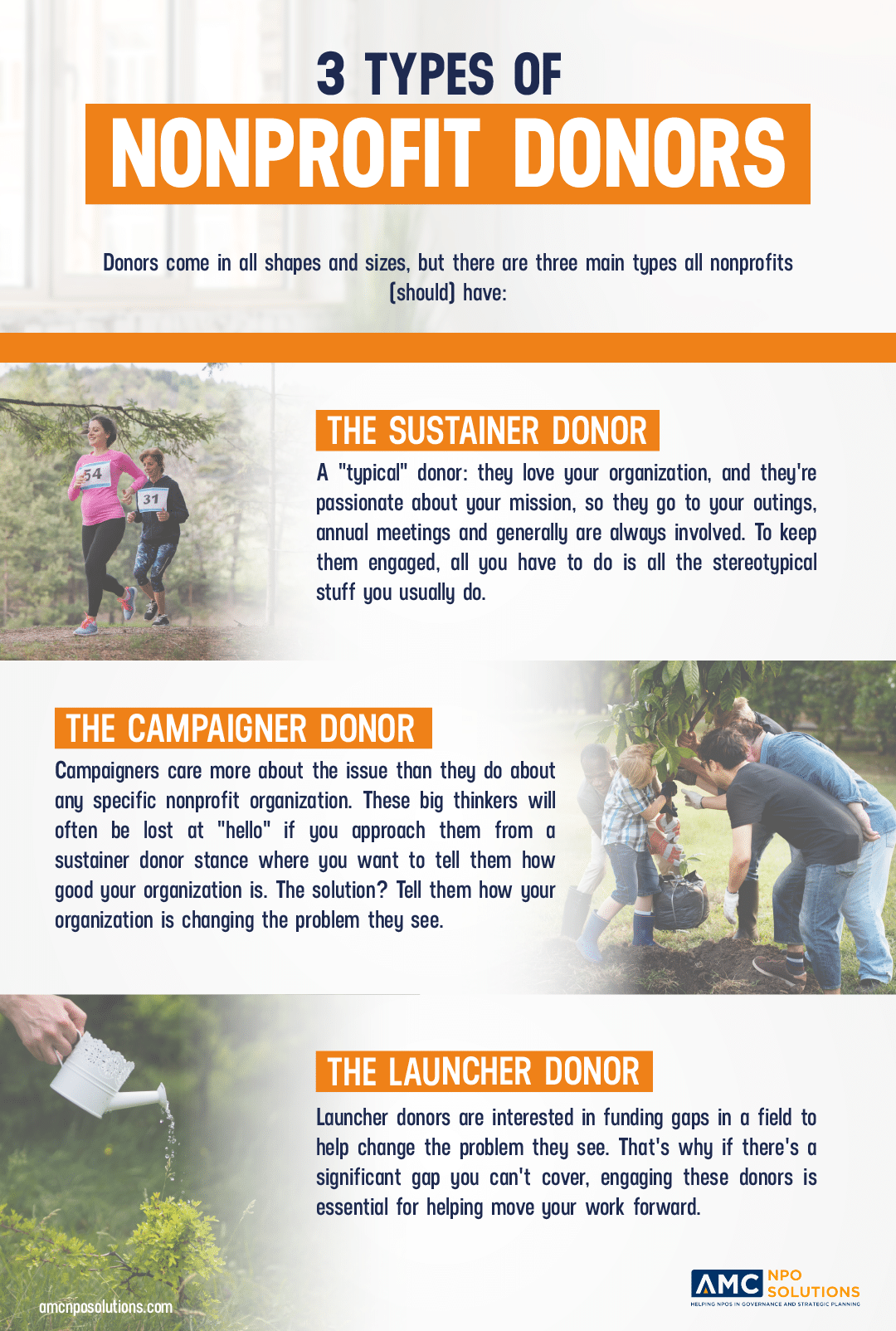 1. Sustainer Donor
A sustainer donor is a typical donor most organizations envision to have – they love your organization. They're passionate about your mission so much, so they go to your outings, annual meetings and generally are always involved. The main thing you have to do to keep engaging a sustainer donor is all the stereotypical stuff you usually do – such as staying relevant and inviting them to key events.
2. Campaigner Donor
A campaigner donor cares more about the issue than they do about any one nonprofit organization. They're often worried about more significant issues like climate change, homelessness or societal problems. These big thinkers will often be lost at "hello" if you approach them from a sustainer donor stance where you want to tell them how good your organization is. The solution is to address these donors with how your organization is changing the problem they see – which is why you have to be okay with the fact that that donor doesn't necessarily care about your organization per see.
3. Launch Donor
Launcher donors are interested in funding gaps in a field to help change the problem they see. That's why if there's a significant gap you can't cover, engaging these donors is essential for helping your work move forward.
How to be R.E.A.L with prospect donors
Relevant
Being relevant is about making sure that your organization's mission is directly in line with what you think this donor will care about, which means that you have to have a relationship with that donor way before you're even asking them for money. That's why you need to make sure that you're relevant to trending news stories and make sure you connect the dots for donors. Don't just send out broadcast emails, and don't just update your website! While, of course, you should do that, sending a personalized email or a phone call explaining to them exactly how your organization is helping deal with a current issue will be far more effective.
Empathetic
The empathetic section of R.E.A.L ties directly into the three donor types and how best to approach them. By understanding each of the types thoroughly, you can identify how best to approach them and empathize with their individual needs as a donor. Not only can you engage them by learning what's most important to them – you can get them excited and inspired to help further your cause.
Abundance
Now you're in your prospect donors field of vision, and you know how best to approach them – what could be next? Talking about your issues from a place of abundance – or the bigger picture, so to say.
When you're asking for money, you don't want to raise funds for random stuff – you want to stick with your strategic plan and keep talking about that big, bold vision. Get your donors excited first, then talk about how you're going to through your one-year/two-year/ three-year plan and identify where you need funding – or risk losing the money you could've secured on the table.
Levelling-Up
Levelling up your approach to donors is essentially not treating your donor friends like they're just a transaction. In fact, never come to Trustees with an extensive laundry list and say, "here's everything we're doing, which things are you going to be interested in, and how can we apply?" – it just doesn't work that way. That's why if you've done the R. E and A of the real, then the levelling up is pretty natural because then you know how to talk to them.
How to get past donor gatekeepers
When attempting to raise money for your organization, it can be difficult to figure out who you should talk to at the foundation. What makes it more challenging is that every foundation is structured differently – so the first thing you need to do to get past donor gatekeepers is to try to understand how the foundation is structured. An easy and accessible way to do this is to go to that foundation's website and review their "about us" page – which usually says the trustees are XYZ.
However, Sybil doesn't recommend cold calling these trustees – because rather than this aiding your cause, trustees will find this aloof, out of line and maybe a little rude, resulting in them not taking any interest in your organization. That's why you should always start by contacting their dedicated staff and consultants who will be able to advise you on putting your best foot forward with the trustees.
About Sybil Ackerman-Munson
Sybil Ackerman-Munson boasts over 20 years of experience as a nonprofit professional and foundation advisor. She taps into her vast experience and knowledge when working with donors who have helped to give away over $45 million in large and small donations. Sybil is a consultant at her consulting firm for philanthropic institutions, Ackerman-Munson LLC and is also a consultant for Do Your Good LLC, an organization that offers online courses, podcasts, and resources to help make a difference with donations to charities and to worthy causes.
Create a brighter future for your organization with AMC
AMC's skilled strategic planning facilitators can help you navigate complex issues and build the transformative plan you need for success.
Whether you have a specific goal, troublesome problem or a new exciting opportunity you need assistance navigating -AMC's customized strategic planning sessions will help.
Contact us today to learn how AMC's Strategic Planning facilitators can help your organization develop, improve, and grow.