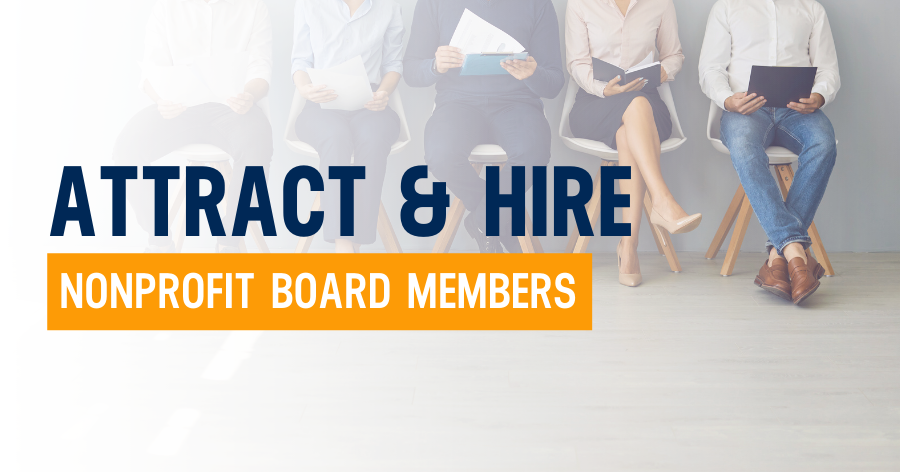 Knowing your mission, vision and values is key to success. But so is finding and hiring knowledgeable, effective and passionate board members who are ready to work together. Yet, making sure you always have great board member candidates in the pipeline requires effort, thought and a nonprofit board recruitment process. Easily review the factors you need to consider when finding the perfect nonprofit board member to help achieve your mission below.
Also read:
Who manages the Nonprofit Board Recruitment Process?
Before embarking on the Nonprofit Board Recruitment process, it's essential to note who is responsible for following through and managing the overall process. In smaller organisations, board members recommend individuals for consideration to the board team or executive committee.
However, larger organisations create a board development committee to oversee the entire process. As a result, the board will appoint the committee members, which usually include other organisation members, to gain varied perspectives.
Overall, when deciding the structure and membership of your board selection team or committee, you should customise it with your organisation's needs and bylaws in mind.
What is the Nonprofit Board Member Recruitment Process?
To find the perfect board member, you need to know how to conduct the nonprofit board member recruitment process well. While it seems relatively simple at the outset, you can quickly become overwhelmed with where to start and how to manage the process. Below are the five basic steps for finding the perfect nonprofit board member:
1. Determine the gap
First, you must identify what skills, experience and expertise you're missing from your current board. Not only does this help to ensure you diversify, but it will also help you decide what you want in a new member.
The way to determine the gaps in your organisation is to circulate an internal survey to assess the boards' current skills or experience.
You can also invite board members and staff leadership to identify potential board candidates at this stage.
2. Create an accurate board opening application
Next, you must create a board opening application. However, the first thing you should do in this instance is ensuring the title you're giving potential members reflects the role and responsibilities of the board member position. The idea with your board opening application is to paint potential members a picture of what you're looking for, what it's like to work with you and what you expect of them.
3. Interview prospects
The best way to select and qualify prospects to interview is to create a streamlined process. This includes inviting prospects to join a board meeting, asking them to volunteer around your organisation (unless they do so already), and interviewing them separately with a senior or longstanding board member.
4. Make a shortlist & decide
Before deciding who you want to take on board as the new board member, you must consider each candidate carefully. Then seek opinions from people who understand your nonprofit's mission and goals. Once you have narrowed it down to two or three candidates, present them to your board for their feedback. Overall, don't ever be tempted to rush through the decision-making process and hire someone who won't benefit your board or your mission.
5. Provide a robust orientation and welcome package
Lastly, when you've found your new board member, ensure they get off to a great start. That's why preparing a formal orientation program is critical. It should include an overview of the organization's history, evolution, philosophies, staffing, and finances. It's also the perfect opportunity to sets a critical foundation for governance best practices and allow new board members to jump into meetings with a more substantial knowledge base.
What qualities should organisations look for in board members?
If you want your organisation to reach its full potential, you must determine who the perfect candidate is to help lead its direction and success. While many factors can make a "good" nonprofit board member, like social connections, personal wealth and expertise in a particular area, help, they're not the end-all and be all of the qualities that make great board members. As a result, the most important qualities every nonprofit board member should have are:
A natural curiosity
Passion for the cause
Open-minded
A strong commitment
Passion for participation
Visionary thinkers & leaders
Communication skills
When considering candidates, it's essential to identify their:
Passion for the organisation's mission.
Leadership potential.
Knowledge of the position.
Communication skills.
Motivational forces.
Nonprofit Board Member Recruitment Best Practices
Now you know how to find the perfect nonprofit board member candidate, you can focus on honing your board recruitment techniques. Just like the ones below:
Tap into your network
Nonprofits often overlook consulting their inner circle or network to find the ideal nonprofit board member. So there are two groups you must always look to when trying to find a new board member:
Volunteers: Are already passionate about the mission and may even represent the community you serve.
Donors: Like volunteers, they already care about your work. Yet, they also know the process for financially supporting your organization.
Diversify
You want to hire a nonprofit board member who brings a new perspective to the organisation. That's why it's imperative to focus on diversifying your board and finding a candidate that sees things differently than you do. Remember, diversity isn't just data. It's a conscious effort to empower, respect, and appreciate what makes your board members different from one another.
Get the word out everywhere
If you're serious about attracting the perfect board member, you need to advertise your board opening everywhere relevantly possible. Don't just post it locally; take advantage of calling for board members on your organization's Facebook page, Twitter feed or even a LinkedIn newsletter. You already have a natural support base there, and you're likely to get some responses and connections at the very least.
It's also helpful to note that most newspapers, radio, and TV stations will sometimes publish or air brief public service announcements for non-profit organisations. So be sure to contact your local paper, radio, and television stations for more information.
Final word: Download the sample nonprofit board member application to find the perfect candidate