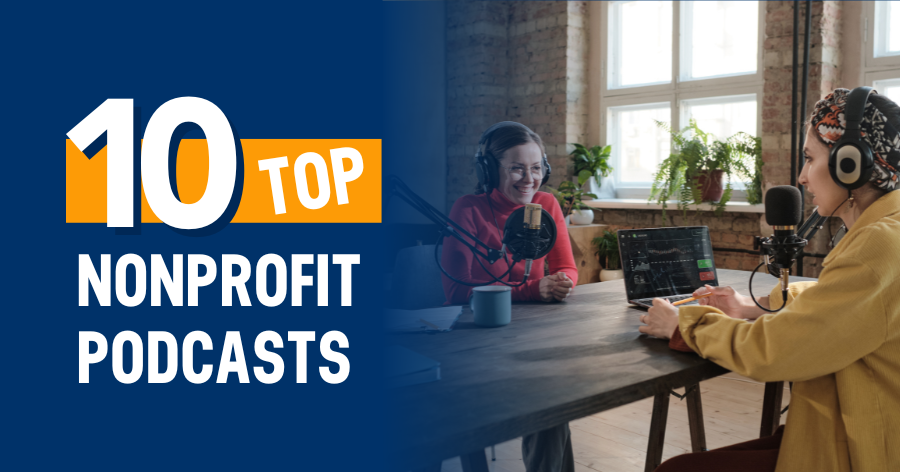 Whether you're a nonprofit professional or just interested in hearing stories from the space, nonprofit podcasts are the best way to discover new trends, knowledge, skills and inspiring stories from cutting-edge organizations and expert individuals. So read on below to find the top 10 nonprofit podcasts you should keep on your radar this year and beyond. Enjoy!
Also read:
Why should nonprofit professionals listen to nonprofit podcasts?
We, humans, love storytelling. So much so that research even shows we're more receptive to storytelling than almost any other type of communication. Stanford University found that when we articulate information as a part of a narrative, people remember "up to 22 times more than facts alone." What's more, our brains not only crave stories. But to remember them and pass on meaningful ones to others, spreading their reach well beyond the listener.
Therefore, Nonprofit Podcasts are a natural modern progression of this process. More so, listening to audio content allows us to engage with the information in a very different way. Ideally, we can use them for "on the go listening", a flexible, remote and dynamic way to discover those people or nonprofit organizations that also care deeply about solving the problems they see in the world.
Overall, there are plenty of reasons professionals consider listening to top nonprofit podcasts. Not only are they portable, but they're also easy to subscribe to, and importantly, they're free.
Regardless of whether you're a nonprofit leader, board member, employee or volunteer, you'll be sure to find diverse, informative and inspiring podcasts below. So, who knows, maybe you'll even learn a few new skills!
How nonprofits can use podcasts?
Nonprofit organizations looking to reach like-minded people can create a nonprofit podcast to share their organization's stories. As a result, you can reach new audiences and get information about what you do and how you do it directly to those who want to help. As well as being an overall networking opportunity, it's a learning opportunity for everyone involved in the production.
10 Top Nonprofit Podcasts
Below are 10 top nonprofit podcasts every nonprofit professional should keep on their radar this year:
2. Nonprofit Leadership Podcast
3. Successful Nonprofits Podcast
4. Nonprofit Lowdown
5. The Growing Your Team Podcast
6. The Official Do Good Better Podcast
7. Impact Boom
8. The Small Nonprofit
9. The Nonprofit Podcast (Powered by Donorbox)
10. Nonstop Nonprofit
---
Want to get involved in our nonprofit podcast? Apply below now!
Want to join Trista McIver and Tom Abbott as a guest on The Strategic Nonprofit Podcast?
Whether you're on the board of a nonprofit, work at a nonprofit or are a supplier that helps the nonprofit industry, fill out the following form with the information that is relevant to you and we'll get back to you if you're selected to be on the show.
Discover The Best Online Training Courses for Nonprofits