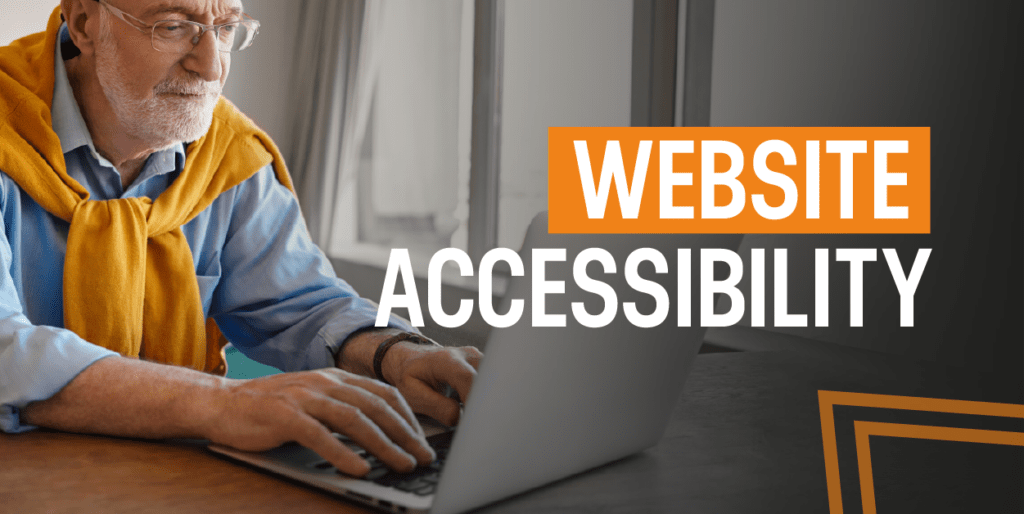 Nonprofit Organizations need to optimize their website accessibility to better connect with their community, but more critically, it's now a legal requirement for many companies and organizations depending on the size of the nonprofit, location and if the website is new or being significantly updated.
However, we understand that if you're new to understanding website accessibility, it can be incredibly daunting when trying first to understand common issues and their solutions.
Therefore, this is why we put together this guide to improving your nonprofit website accessibility.
On the whole, please note as laws and regulations change and very around the world, for the latest legal requirements, please refer to your local governing body.
What Are Website Accessibility Standards?
We often consider many critical aspects when creating and growing nonprofit websites, namely a clean design, an effective colour scheme, easy navigation, donation call-to-action functionality and usability. However, this is just the surface.
Everyone navigates the web and consumes content differently because Some have specific challenges or preferences that require innovative solutions. Therefore to define in simple terms, applying website accessibility best practices ensures that the website is optimized for people with specific challenges.
Hence, people with disabilities experience it as intended because you want every user to have the best experience on your website. Furthermore, website accessibility is a vast subject and considers various disabilities, including auditory, visual, physical and cognitive.
Also read:
The Accessibility for Ontarians with Disabilities Act (AODA)
"In 2005, the Accessibility for Ontarians with Disabilities Act (AODA) came into effect, making Ontario the first province to enact such ground-breaking legislation. This new Act's purpose is to create accessibility standards that organizations from public, private, and non-profit sectors must follow and to make an accessible province for all Ontarians."
What is the Website Accessibility Initiative?
The Website Accessibility Initiative (WAI) "develops standards and support materials to help you understand and implement accessibility."
What is the purpose of WCAG?
As stated by the Web Accessibility Initiative:
"Web Content Accessibility Guidelines (WCAG) is developed through the W3C process in cooperation with individuals and organizations around the world, with a goal of providing a single shared standard for web content accessibility that meets the needs of individuals, organizations, and governments internationally.
The WCAG documents explain how to make web content more accessible to people with disabilities. Web "content" generally refers to the information in a web page or web application, including:
natural information such as text, images, and sounds
code or markup that defines structure, presentation, etc."
The Principles of Nonprofit Website Accessibility
Nonetheless, this is not an exhaustive list by any means. However, you can find the basic principles you need to consider and apply solutions to comply with Website Accessibility standards here.
In our latest episode of The Strategic Nonprofit podcast, we invited Chief Digital Aficionado at Wow Digital Inc. David Pisarek to share some quick, actionable and thought-provoking tips for the best practices optimizing website accessibility.
Content
These content requirements fall under "Guideline 1.1: Provide text alternatives for any non-text content so that it can be changed into other forms people need, such as large print, braille, speech, symbols or simpler language." of the WCAG 2.0. As well as Guideline 1.2: Provide alternatives for time-based media.
It's imperative to tag any images, videos, icons or visuals with text alternatives in your website's HTML code. It's often referred to as "Alt Text." and is for being visually descriptive.

2. You also need to provide captions for videos such as transcripts, audio descriptions of key visuals and even sign language interpretations.
Understandable
Your website should be easy to understand, which falls under Guideline 2.2: Provide users enough time to read and use the content and Guideline 1.3: Create content that can be presented in different ways (for example, simpler layout) without losing information or structure. Including 2.2.2 Pause, Stop, Hide: For moving, blinking, scrolling, or auto-updating information, all of the following are true.
Allow a generous amount of time to read or use the content, therefore not distracting a user.
Users should have the ability to pause, stop or hide any moving content.
Users should easily navigate and find the content they need. (Names of pages, correct use of the tags H1, H2, H3 and so on.
Users understand where they are in your website's structure, and there are multiple options to discover related pages. (Main navigation, sidebar and breadcrumbs)
Seeing & Hearing
Basic seeing and hearing factors fall under Guideline 1.4: Distinguishable content including Success Criterion 1.4.1 Use of color & Success Criterion 1.4.2 Audio control
Don't just focus on using colour to differentiate, and you should check your links and ensure they're underlined and in a different colour.
The text needs to re-size up to 200%.
Users need to have the ability to pause and adjust the volume for audio files.
Ease Of Use
The basic standard for developing your website for ease of use fall under Guideline 2.1: Keyboard accessible, Guideline 2.4: Navigable content, and Guideline 3.2: Predictable web pages
Users can use all of the same functions with a keyboard as they do a mouse.
Users should be able to identify where the focus is on the screen (Cursor, border or highlighting)
By-pass blocks are hidden links that allow users to skip sections of repetitive content.
Relevant Situations
Although a majority of the principles are for the benefit of audiences living with disabilities, everyone – not just nonprofit organizations, but every website should be welcoming to the user landing upon it. This is why you need to consider other common issues such as:
Temporary disabilities (sprains, broken bones or missing equipment like glasses or a hearing aid.)
Situational Limitations (sunlight or disruptive environments.)
Slow internet connections and limited bandwidth
How Do I Test My Website Accessibility?
To evaluate your websites accessibility in terms of the basic standards stated above, you can these quick steps right now:
Turn on High Contrast Mode.
Check if captions and transcripts appear.
Turn off images.
Unplug your mouse and keyboard.
Click field labels.
Turn off CSS.
While this is a useful starting point, you should be aware there are various Website Accessibility evaluation tools at your disposal, which are often in the form of software programs or online services. You can determine what type of device applies to your challenge here: Selecting Web Accessibility Evaluation Tools.
Helpful Resources
However, the above article is provided as a helpful starting point for accessible website design. AMC can not guarantee its accuracy. The reader is encouraged to do their own research to verify the information with necessary governing authorities when necessary/important to the reader.
Create a brighter future for your organization with AMC
AMC's skilled strategic planning facilitators can help you navigate complex issues and build the transformative plan you need for success.
Whether you have a specific goal, troublesome problem or a new exciting opportunity you need assistance navigating -AMC's customized strategic planning sessions will help.
Contact us today to learn how AMC's Strategic Planning facilitators can help your organization develop, improve, and grow.