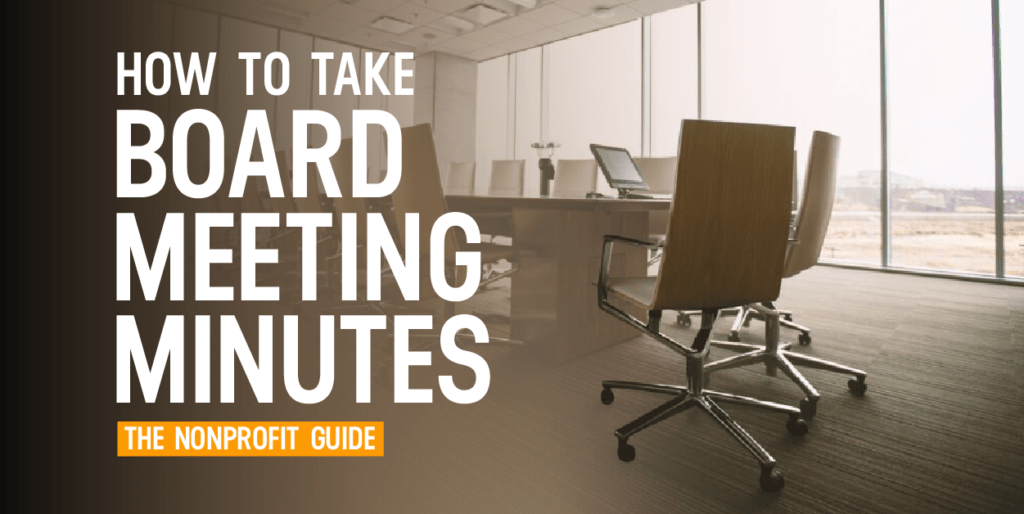 Well prepared board meeting minutes are an important part of every board meeting. Minutes are an official record of actions the board or committee took at a meeting, so it's important to get them right. However, despite their importance, many organizations continue to create less than stellar records of their board meetings by recording irrelevant statements, missing important decisions or recording too much or not enough.
Get your board organized and ready for action by following our ultimate nonprofit guide on how to take board meeting minutes.
Also read:
What are board meeting minutes?
Whether public or private, all types of organizations use board meeting minutes as an official and legal record of the meeting between the Board of Directors and other participants such as staff, volunteers, or external organizations. Board meeting minutes are a record of everything that happens within these meetings and is used to track progress, plan for the future and serve as a past reference point. However, they're not a transcript of the meeting. Instead, they are a record of what happened, was proposed or decided on. They also support your risk management by providing a written record of board deliberations and decisions – proof of the careful consideration your board has taken to reach a decision.
What information do board secretaries need to record?
The organization's Secretary is officially responsible for recording the minutes at board meetings and will often use Robert's Rules of Order as a guide or starting point. However, as a general rule, before getting started with the meeting, the secretaries minutes should include a statement about whether the previous board meeting minutes have been read and approved. Overall, the most crucial aspect of minute taking is documenting an accurate statement of any actions that board members took during the meeting.
How to take effective board meeting minutes
As your organization's secretary, you need to follow a 4 step process to record board meeting minutes effectively. Use the below points as a checklist to help support you before, during and after the process:
Step 1. Prepare
Before getting started in creating or adapting a board minute template, it's always valuable to discuss the expected requirements your board president has about the format of the board meeting minutes. You can always review past board meeting minutes to use as a template, alongside having a copy of the meeting agenda that includes all names of attendees.
Step 2. Record
Secretaries that record board meeting minutes should be aware that courts can potentially misinterpret discussions or direct quotes in the future. This is particularly troublesome when board members may have forgotten the context in which they spoke because statements can be very quickly taken out of context and could hurt your organization's reputation. Therefore you need to thoroughly understand what information to record and how to present it. You can find details of this information below:
What to include in board meeting minutes
Time, date and location of the board meeting.
Time the board meeting was called to order, and the time it is adjourned.
Names of all attendees and absentees.
Corrections and amendments to previous meeting minutes.
Additions to the agenda.
Motions taken or rescinded.
Voting that there was motion and second, along with the outcome.
Agreed upon actions.
Open discussion and participation.
Date, time and location of the next meeting.
Step 3. Write
Now it's time to compile all of the notes together into a readable and valuable document for your organization. It would be best if you started by reviewing the agenda to refresh your understanding of the full scope of the board meeting. Then you can review actions, motions, votes and decisions to determine their clarity and edit if needed. Ultimately you're aiming for a clear, easy-to-understand document that anyone can read but is still comprehensive on the points covered. You should also attach documents or handouts used in the meeting to your final copy, as it is a more concise way to present it, rather than summarising it in the minutes.
Step 4. Sign, Share & File
Once your board meeting minutes document is finalized, it is your responsibility to sign it and acquire the president's signature as the board secretary. Once you're ready to share the minutes, ensure you have the approval of the organization's president before printing or publishing. In terms of storage, you should always follow the by-laws and protocols set by your organization – as well as creating backup copies in print, hard drive or virtually in a cloud storage system.
How to amend board meeting minutes
So what do you do if a necessary action or statement is inaccurately recorded? Luckily there are a few simple steps you can take to rectify your mistake:
Before Approval?
Suppose you found a mistake in the board meeting minutes before approval from the organization's president. In that case, you can change it at any time before the board reviews it without notifying them.
After Approval?
Suppose you found mistakes after a board has approved minutes; you must notify the board that you made a mistake and that you will rectify it.
How to amend board meeting minutes
Clarify the Changes: First, ensure you fully understand the necessary correction; if possible, speak with the person who identified the issue. Then cross-check your notes against the agenda and supporting handouts. In this case, you can easily correct simple spelling mistakes.
Rewrite and Redistribute: Reopen the document to correct the mistake, then re-distribute the amended version back to your board members. It's always helpful to attach a cover letter or note to describe the document's revision and state you've sent a replacement.
Nonprofit Board Meeting Minutes Template
Stop worrying about whether you're recording too much or too little and focus on the actions that matter with your free, robust resource for effective minute taking. Have efficient meetings, align shared goals and legally protect your organization. ​Download your free nonprofit board meeting minutes template below now!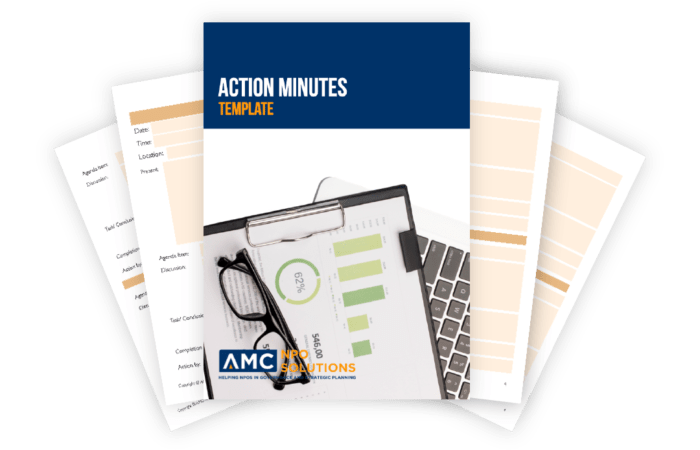 Board minute-taking best practices
While each organization will have a slightly varied approach to taking board meeting minutes, you should always follow several best practices to create an effective official document that successfully identifies and tracks action items.
Focus on value
The purpose of board meeting minutes is to produce a document that accurately references past meeting actions. They are explicitly not a transcript and should never be verbatim documentation of all statements made during the board meeting. Instead, they should be concise and informative, providing only the most valuable statements. As a rule of thumb, if your minutes take more than 15 minutes to read, they're not helpful for any staff or volunteers of your organization.
Be familiar with topic matter
To ensure the board meeting minutes are accurate, it would be best if the minute-taker has experience of the discussed matters. Otherwise, you will poorly reflect on the meeting, and the actions taken will get lost in irrelevant chatter.
Keep it concise
Board secretaries need to understand that board meeting minutes are legal documents that can be used in a court of law. For this reason, they need to be precise and reflect the events or actions accurately. To do this, you need to ensure you record the meeting in the same verb tense, record motions, actions and decisions as they happen and always ask for clarification if necessary. More so, it's important to remember to maintain the same verb tense throughout and check off attendees as they arrive. Alongside:
The presence or absence of a quorum
The name and title of who is recording the minutes
A summary of actions taken
A summary of votes with details about when motions are adopted and the breakdown
A note of documentation present
A summary of discussion points
A comprehensive list of action items with details about who will fulfill them and when
Use a template
Recording board meeting minutes is often a complex process, so why not ensure you're creating the proper documentation for your board using a template? Just select one from our selection above to get started.
Stop the Confusion and Unleash the Potential of your Board
Master the entire process of running nonprofit board meetings with our online course that makes it fast and easy to train new board members on the dos and don'ts of meetings. Available all in one course that covers everything you need to run productive meetings.