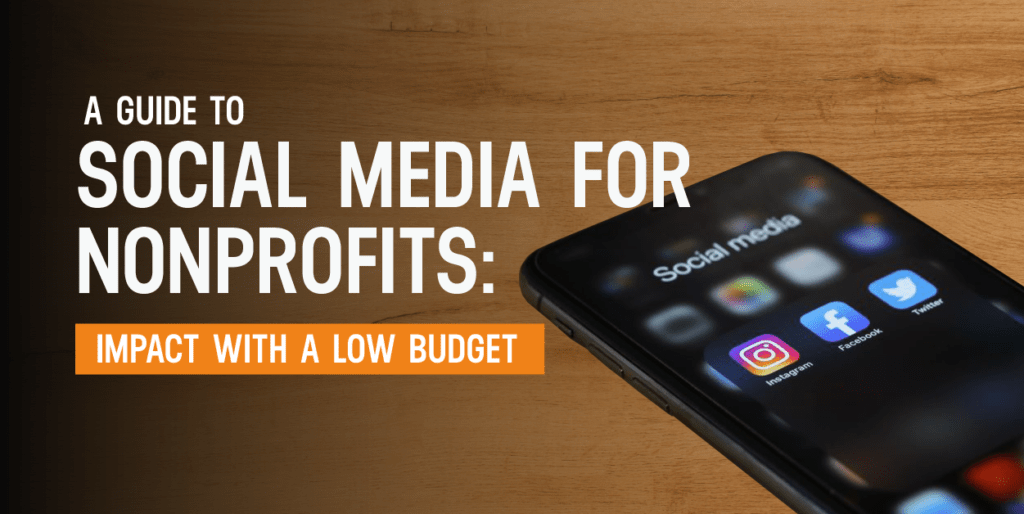 Nonprofits usually struggle for resources, whether that's staffing, donations or even just time. Often, this leads to disappointment about the organization's progression, particularly for those trying to expand the reach and awareness of the cause through social media. However, don't feel disheartened because, in this comprehensive guide to social media for nonprofits, we'll explain how to be impactful with a low budget, gain precious support and further your cause online.
Also read:
Why should nonprofits focus on social media?
As of 2020, 3.6 billion people worldwide are using social media. Not only that, but 55% of people who engage with nonprofits on social media end up taking some action. Furthermore, a staggering 59% of those people donate money. So, there's no absence of opportunities to find people who can support your cause through platforms like LinkedIn, Twitter, Facebook, Instagram and Youtube. For this reason, social media for nonprofits allows you a chance to find like-minded people who can help your mission, regardless of their location.
Benefits of social media for nonprofits
Now, you already know that having a social media presence is critical for reaching people further afield in the global community that would otherwise be local. However, what is the tangible benefit of social media for nonprofits? Find out below!
Increase awareness
Education and advocacy are two essential aspects of the catalyst for change. Therefore, social media helps nonprofits fulfill this objective by raising awareness of your cause by sharing your message and connecting with the people who need your support.
Also read: Why Mission Statements For Nonprofits Matter Most
Promote action
You can evoke your followers to take actionable steps to help your cause and your organization. Particularly by appealing for supporters to donate, call politicians, pressure influencers, or adopt a specific mindful behaviour.
Share your accomplishments
Social media is your chance to showcase what your nonprofit can and has accomplished. So that followers and potential supporters can visualize the real-world effect that you've created. Furthermore, you can use this as an opportunity to thank your followers for their contributions and continue to build a positive momentum behind your cause.
Also read: 9 Top Nonprofit Podcasts To Keep On Your Radar (2022)
Cultivate a community
People want to connect with others that care about the same values and causes as them, which is why social media for nonprofits is an invaluable tool. You'll grow your supporter base and maybe even pick up a few new volunteers on the way. Why? Because you can easily create groups, pages or channels where people will interact, share resources and discuss issues that matter to them.
Also read: Follow the R.E.A.L Formula to Nurture Donors
Are you tired of watching competitors overtake you online while taking your donations? Join Social Selling Mastery and gain the skills needed to demonstrate your expertise, gain awareness and accelerate your organization on social media. All while staying skillfully one step ahead of the competition.
Most popular social media platforms for nonprofits
There are many social media platforms out there—Twitter, LinkedIn, Facebook, Instagram—it's enough to make your head spin.
However, each social network has a personality, characteristics and preferred mode of communication. More so, supporters are likely to flock to the platforms that are best suited to their tastes and interests.
For this reason, below, you can find information on the most popular social media platforms for nonprofits:
Facebook
One of the most prominent social media platforms globally, Facebook is undoubtedly a great social media platform for nonprofits. Not only that, but it's one of the fastest-growing, with five new profiles made every second; Facebook now has 2.8 billion monthly active users.
Helpful resources
Twitter
Twitter is often called "the modern public square," where people come to voice their opinions, perspectives and, of course, debate the most significant current issues. The platform is also known for being a hub for breaking news and real-time reactions from influential figures. So, with over 330 million monthly active users, could Twitter be the right platform for your organization?
Helpful resources
Instagram
Hailed as a "marketing powerhouse," Instagram is quickly becoming a popular choice for nonprofit organizations to communicate their cause by sharing striking images and videos. People who use Instagram frequently "check" the site several times a day, therefore post engagement is much higher than other social media platforms.
Helpful resources
YouTube
YouTube specializes in video and streaming and has more than 1 billion users. Everyone uses YouTube, from grandparents to grandkids, doctors to builders – even young kids! However, due to the number of professional quality videos, it can be a very daunting task for a nonprofit to establish themselves on the platform – but you can.
Helpful resources
LinkedIn
According to LinkedIn, their platform has "645 million users in more than 200 countries and territories worldwide," with almost half as regular active monthly users. Many organizations are hesitant to use LinkedIn as it's seen as a valuable tool for B2B sales and marketing. However, there are many benefits for nonprofits. For instance, you can cooperate with other nonprofits on LinkedIn, find corporate sponsors, attract significant donors, share knowledge and learn from others.
Helpful resources
Pinterest
In general, Pinterest is not just for home improvement ideas or beautiful recipes; Pinterest is a platform for promoting, saving, and finding information via visual content. However, while it usually gets lost in the dust of media coverage from Instagram and Facebook – it's still a valuable marketing platform. In particular, the platform attracts a female audience, and in fact, they're 81% of active users.
Additionally, according to Lisa Sherman, president and CEO of the Ad Council, "Pinterest is a place where people get inspired and then take action. Leveraging the platform gives nonprofits a unique, impactful way to share their causes and encourage people to support them."
Helpful resources
Sign up for Pinterest Academy courses
What you'll need to get started on social media
Similar to any marketing campaign, you need to prepare. Otherwise, as the adage goes, "fail to prepare, and prepare to fail." Therefore, below you will find the essential steps you need to take before unleashing your organization's cause on social media!
1. Your target audience
Your first task is to define who your target audience is; you may already have a good idea – but we recommend that you document this by creating marketing personas. Therefore, you can determine from this what sort of content they're likely to engage with, and more importantly – what social media platforms they prefer.
2. An idea of the platform you'll use
It would be best to find out which platforms are frequented by most of your supporters and establish a strong presence on these particular platforms. However, rather than spreading yourself thin by trying to be everywhere at once, it would be more effective to take a targeted approach. Otherwise, you may invest a lot of time and effort into launching a social media initiative on a particular platform, only to discover that your target audience isn't active on this platform.
3. Clear goals and objectives
Similarly to any campaign, you need to understand precisely what you're working towards. Why? So you can evaluate whether you're promoting your cause effectively on social media. For this reason, you need to establish set clear goals, for instance, do you want to receive more donations, recruit volunteers, or pressure influencers?
4. A social media strategy and schedule
Lastly, it would help if you organized everything into a content strategy or schedule. Start by determining how often you want to engage and post, whether daily, weekly, biweekly, or monthly.
Social media best practices for nonprofits
Social media is vast, and it can take some time to get into the flow of things and ultimately get the results you want. Therefore, below you can find our best practices on social media for nonprofits.
Enrol and set up accounts as a nonprofit
The first step of any successful nonprofit social media account is, of course, registering as one. Many social media platforms offer features and resources for nonprofits. For instance, YouTube offers "Link Anywhere cards," production resources, dedicated technical support, and fundraising tools.
Add donation buttons
Donate buttons allow support to seamlessly and easily donate to your cause, check out how to add donation buttons to your Facebook and Instagram accounts below.
How to add a donate button to your Facebook Page:
Go to your nonprofit's Facebook Page.
Click Add button.
Select "Shop with you" or "make a donation." Pick Donate and click Next.
Click Donate through Facebook. (You'll need to be enrolled with Facebook Payments for this to work.)
Select Finish.
How to add a donate button to your Instagram profile:
Go to your profile and open the menu.
Select Settings.
Tap Business then Donations.
Turn the slider on beside Add Donate Button to Profile.
Create social media guidelines or policies
Not only do guidelines guarantee consistency regardless of who's working on the account, but they're also helpful when onboarding new staff. So often, nonprofit organizations consist of a diverse team of skillsets. Therefore by creating and implementing a social media policy and relevant guidelines, you can ensure that everyone is on the same page regarding style, conduct, negative messages and comments.
We suggest that you aim to have:
A social media style guide
A document of social Media best practices & tips
A catalogue of resources
Guidelines to deal with negative comments and messages
Post interactive content
The purpose of interactive content is to persuade your audience to do something other than passively watching or reading. For this reason, interactive content is an excellent method to gain engagement. Furthermore, it's a time saver – meaning you don't have to spend hours writing a blog post or creating stunning visuals.
Some examples of interactive content you can readily use are:
Ask your audience to share their story through a regular status update.
Polls
Surveys
Fill-in-the-blanks
Post shareable content
Frankly, shareable content is the gold standard in social media for nonprofits. It's great to get engagement such as likes, comments, but when a supporter shares your content – they're casting your awareness net just that bit wider. This means that like-minded people will be able to engage and follow you, ultimately building momentum behind your cause.
Create a fundraiser
Now, more than ever before, it's easier than ever to receive donations online- just set up a fundraiser. There are several tools available to nonprofits to do just that; for instance, via Facebook, verified nonprofits can place a live fundraiser on their page. Additionally, Instagram supports "Live Donations."
How to be impactful with a low budget
Of course, in an ideal world, nonprofit organizations can increase reach and consequently grow their supporter base for a meagre budget – and you can do just that with social media. Below are some effective tips for being impactful with the social media tools at your dispersal:
Share stories & showcase your real-world impact
Storytelling is an established marketing technique; however, is the story going to interest your potential supporters? Successful storytelling depends on crafting a good tale. But is your story good enough to do that? Imagine meeting a stranger on the train who tells you the story you just created. Would it hold your interest, or would you start looking for a different seat? Simple language expressed in an engaging narrative is the best approach! Although, be mindful not to get too caught in your storytelling and forget your purpose is to raise awareness of your cause.
Always use hastags
Always use hashtags to get found and join the conversation. You can get started on social media with the suggested nonprofit hashtags below. Now, they're all charity-centric, which means you will have some competition and therefore need to stand out.
#Charity
#Change
#Nonprofit
#DoGood
#Fundraising
#Donate
#Philanthropy
#CharityWork
#SocialCause
#Activism
Be responsive
You should always endeavour to be prompt when engaging with your audience. Therefore, ensure you're prioritizing being responsive by answering questions, replying to comments, and responding to messages.
Measure your success
How do you know that you're on track to hit your goals if you can't even measure your effectiveness? Furthermore, how can you impact your desired target audience if you're not even sure your content is working? For this reason, you need to prioritize measuring your success, and you can use these tools to do just that:
Connect with AMC NPO Solutions
Discover The Best Online Training Courses for Nonprofits
Online nonprofit courses are invaluable for any nonprofit professional ready to expand their skills. Move your mission forward with NPO Academy's online training courses for nonprofits.

Get the training your organization needs, anytime, anywhere with innovative micro e-learning platform NPO Academy. 
The Complementary Model of Board Governance
Start implementing better governance at your nonprofit that allows your board and CEO to work together as a team.
Running Productive Meetings
Learn the proper structure, roles and requirements for running effective nonprofit board meetings.