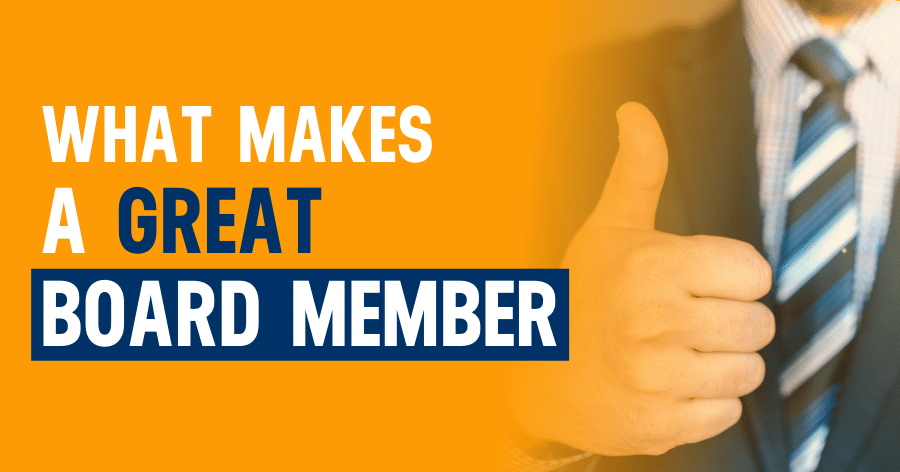 Recruiting the right nonprofit board members is a massive component of organizational success. Yet, the average nonprofit board size is decreasing. As a result, many wonder how they're going to "get it right." Well, it starts with you knowing who to recruit. Discover 7 qualities all great nonprofit board members (should) have below. Use this guide as a starting point to pick candidates that can help your organization thrive. Check them out below!
Also read:
What are the qualities of a good nonprofit board member?
Truthfully, many factors make a good nonprofit board member. While social connections, personal wealth and expertise in a particular area help, they're not the end-all and be all of the qualities that make great board members.
Moreover, board members with the right mix of skills, qualities and personalities can help take your organization much further than simply having the three factors noted above.
7 Qualities of Great Nonprofit Board Members
Below, let's review what makes the best board members, including what to look out for in the nonprofit board recruitment process:
1. A natural curiosity
A willingness to listen and learn separates most successful professionals from the rest. Nonprofit board members usually exude this mindset, and organizations want members who can lead their team to cultivate this mindset into the culture.
2. Passion for the cause
Candidates won't always check all of your boxes. So what potential nonprofit board members lack in skill and expertise, they often make up for in blazing passion for the organization's mission. When nonprofit board members have a deep interest in the cause, they're far more invested in their work – making them a key cog in the organization's operations. Moreover, excitement and passion on this scale are often contagious and often help to raise the morale of other staff members.
3. Open-minded
Great nonprofit board members are willing to entertain and understand new ideas. They're entirely open-minded when it comes to achieving the mission and vision of the organization. For example, great board members embrace software solutions that help organizations be much more productive in the long term. In comparison, some board members might be hesitant to adopt board portals, secure messaging platforms and cloud document storage.
4. A strong commitment
The most significant hallmark trait of a great nonprofit board member is their commitment to devoting their time, money and resources to helping achieve the organization's cause. These types of board members eagerly read meeting agendas and prepare relevant questions for the board. They're always prepared and have the dates of all board meetings and important events reflected in their perfect board meeting attendance.
During board meetings, they're attentive, engaged, curious and collaborative. They never shy away from asking questions, no matter how obvious, strained or insignificant they may be.
Great board members are proud to be ambassadors for the organization in the community. They share the mission and vision with personal and professional connections as a matter of course.
5. Passion for participation
Nonprofit board members ready to roll up their sleeves and contribute to your organization's mission are ideal. They often exude their passion for participation by financially contributing, designating their time for meetings and fundraising and are overcommitted elsewhere in their personal or professional lives.
Often, nonprofits think they should prioritise high net worth board members. Nonetheless, someone with an abundance of time and willingness to jump in and help at a moment's notice are much more valuable for the organization in the long term.
Also read: How To Run Nonprofit Board Meetings That Engage & Inspire
6. Visionary thinkers & leaders
Great nonprofit board members know that they must regularly talk about the vision, mission and organizational values. That's because they know that this is what will motivate the board, staff and volunteers to continue to proactive, forward-thinking and conscious of achieving these goals.
7. Communication skills
Every word counts if you only meet with your board a few times a year. So you must communicate well in all forms—everything from staying in touch between meetings. To communicate fundraising ideas and reach out to other members on your behalf.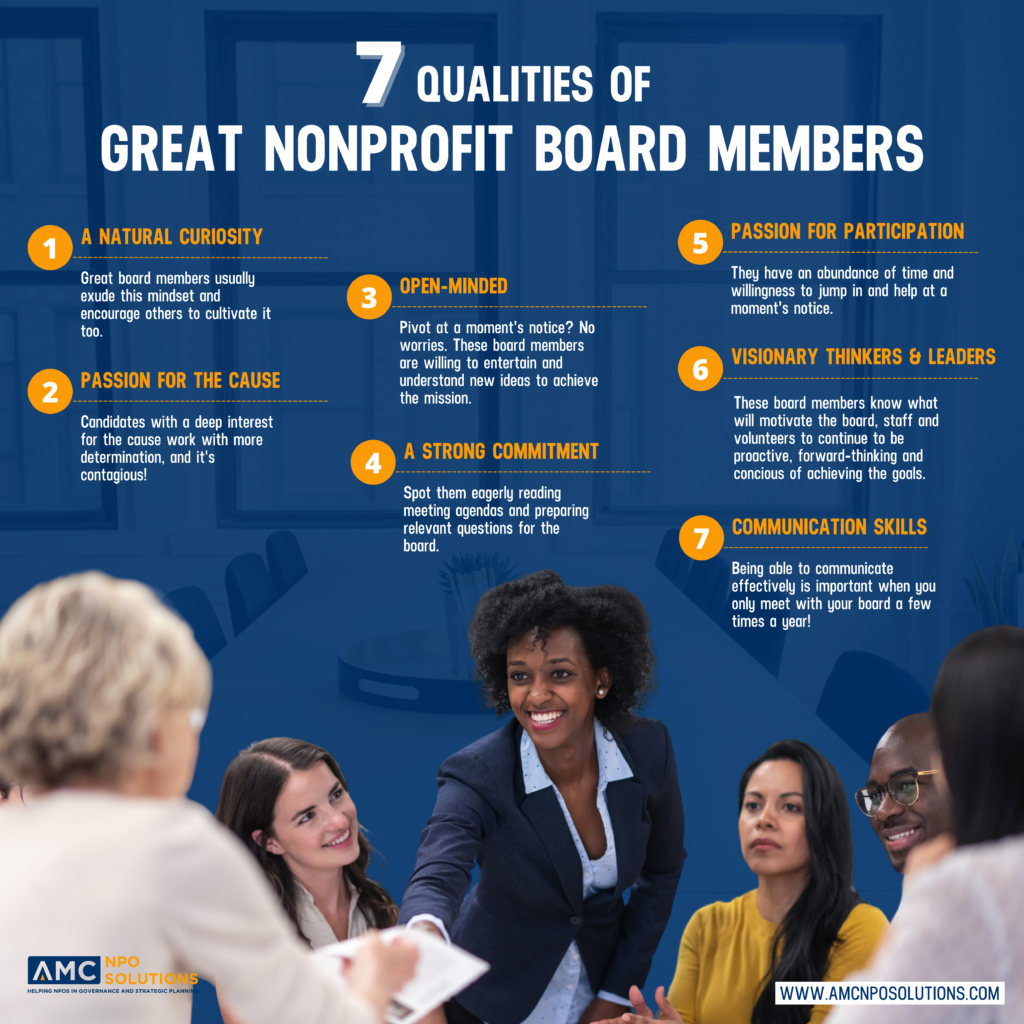 Discover The Best Online Training Courses for Nonprofits
Online nonprofit courses are invaluable for any nonprofit professional ready to expand their skills. Move your mission forward with NPO Academy's online training courses for nonprofits.

Get the training your organization needs, anytime, anywhere with innovative micro e-learning platform NPO Academy. 
The Complementary Model of Board Governance
Start implementing better governance at your nonprofit that allows your board and CEO to work together as a team.
Running Productive Meetings
Learn the proper structure, roles and requirements for running effective nonprofit board meetings.